Who needs a Hunky Hero? Come and get one!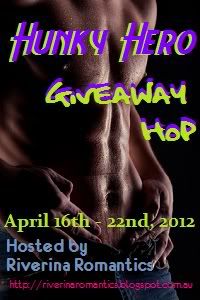 Welcome to the Hunky Hero Giveaway Hop hosted by Riverina Romantics!
I have got something cool for you guys today. I'm giving away TWO prizes! Whee and Woot! The first prize is a copy of BLOOD AVENGED by Gabrielle Bisset.  It's yummy vampires…. And the second prize is a set of book marks. Now, BLOOD AVENGED is the first in an eight book series, and she's got bookmarks designed for the first three books. SO, if you win the book marks you get to drool over all three covers. They're small pictures, but they are super sexy.
I'm giving away the book, Nook or Kindle format, you tell me what you want.
What do you have to do to win? Heh, easy peasy nice and sleazy. Fill out the Rafflecopter. If you already follow, just put in the email you follow with. *Mwuah!* Thanks for stopping by!
Okay, so I know this picture is super huge, but he's soooo pretty…….
)
Here's the blurb:
Blood Avenged
I am everything you desire. I am vampire.
Powerful and manipulative, Vasilije does as he pleases. A vampire beholden to no one, he takes what he desires, drinking deeply the pleasures this life has to offer.
When one of his own is staked, Vasilije must travel to New Orleans to exact his revenge. There he meets Sasa, a beautiful woman who arouses him like no other has for centuries. Vasilije's need for vengeance is equaled only by his passion for her, but what he finds in his revenge is just the beginning…
For more information about the Sons of Navarus series and all the hunky vampire heroes in the series, like their Facebook page at https://www.facebook.com/SonsOfNavarusSeries and visit the series' page at my blog at http://gbisset.blogspot.com/p/sons-of-navarus-series.html
Okay, so I also have a guest post up where Gabrielle talks about why she loves hunky vampires AND the book cover and blurb for book two in the series, BLOOD BETRAYED.  Click here to check it out. BLOOD BETRAYED drops on May 24, and I'm going to do my part to help pimp it by hosting a giveaway. I hope you come back and join in the fun for that. BLOOD SPIRIT, book 3, will be out in the fall.
Oh, and the book marks! Sorry, I got distracted by his hotness up there. Seriously, I keep scrolling to look at his abs. Mmmm…..
Be sure to visit the other blogs on the hop!